Corporate Social Responsibility Policy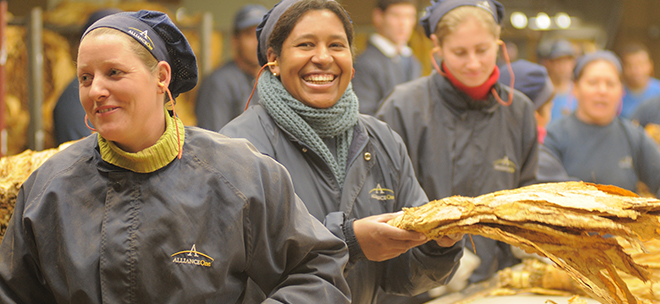 The Alliance One International's Social Responsibility Policy confirms a commitment to conducting our business with integrity and in full compliance with the legal and regulatory requirements of the countries in which we operate. In addition, we have an obligation to be a responsible citizen in each country in which we conduct our business and this obligation extends to a wide range of social, environmental and economic concerns, including:
Achieving a balance of economically sustainable crop production and positive environmental impact by effective training of farmers, encouraging good agriculture practices, and where appropriate, working in conjunction with other stakeholders to this end.
Monitoring the environmental impacts of tobacco processing activities and adopting practices that, within the constraints of local regulations and in concert with other stakeholders in the area, avoid negative effects on the local community and biodiversity.
Establishing practices for protecting the health and safety of our valued employees, farmers, contractors, visitors and local communities.
Ensuring that company vehicles, equipment, tools and facilities are properly maintained, safe to operate and do not endanger health.
Adopting fair labor standards, including the protection of farm labor and elimination of exploitive child and forced labor.
Ensuring employment and advancement standards unaffected by race, religion, gender, social class, political ideology or disability.
Providing support for educational opportunities among adults as well as children.
Objectives:
Native old-growth forest preserved
Only approved tobacco seed varieties used
Appropriate use of crop protection agents
Soil fertility maintained or enhanced
Water pollution prevented and air emissions minimized
Biodiversity maintained or enhanced
Occupational environment in our processing plants meets best practice
Energy and water use on farms and in the factory minimized
Accidents prevented through equipment modification, procedures and PPE
Risk of fire or explosion minimized
No children employed in any of our operations
Exploitation of minors and forced labor in tobacco production eliminated
Minimize greenhouse gas emissions and effects on climate change
Best practices available used for NTRM removal
Responsibilities:
1. A senior executive as designated from time to time by the CEO is responsible for implementation and annual review of this policy and performance against the objectives. 
2. Global Social Responsibility Program Manager is responsible for ensuring:
Local detailed policies are developed in support of this policy.
Policy is communicated to all employees through the AOI Intranet, presentations and postings and that their awareness and adherence to the policy is formally monitored by senior staff in each operation.
Data is collected to measure performance against the above objectives, it is reported to senior management for review and remedial action taken if required.
SRP-related reports and assessments are submitted to external organizations, as required.
Engage with other stakeholders to improve effectiveness of the SRP programs
3. Country Managers are responsible for ensuring:
Adequate resources and qualified personnel are provided to meet the objectives stated above.
In support of the Alliance One International Social Responsibility Program, each material operating subsidiary of AOI shall develop and implement a social responsibility program designed to fulfill the commitments and objectives expressed herein in a manner which recognizes and respects the cultural, social, economic and political values and practices of the host country.